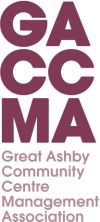 The Great Ashby Community Centre is run and managed by Great Ashby Community Centre Management Association (GACCMA), a registered charity, whose aim is '… to provide a balanced and vibrant community facility which provides a wide range of community facilities to as broad and diverse a population as can be effectively achieved.'
The trustees of the charity have always been residents of Great Ashby or people connected to the centre by use.  They all volunteer their time.
The centre has one employee; our Community Centre Manager, Shauneen; who takes bookings, answers enquiries and looks after the day to day running of the centre.